World's top 100 universities ranked for medicine, biology and psychology
Harvard has topped the world rankings for biomedical sciences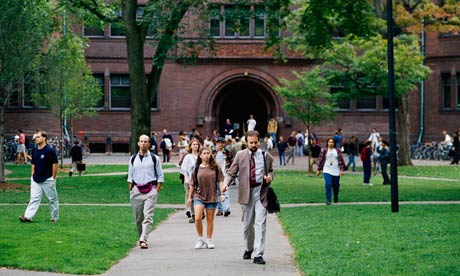 Harvard University has topped the first ever top 100 world rankings for medicine
Harvard university has swept the board ranking highest in the world's top 100 universities for medicine, biological sciences and psychology withCambridge and Oxford following closely behind.
Once again, the elite American university has topped another top 100 world rankings list – it was revealed earlier this year that Harvard had topped the world university reputation list as compiled by Times Higher Education.
Although the US seem to have shown a surge in university rankings across the world, the UK does follow in second place according to the rankings published today by leading higher education and careers research company Quacquarelli Symonds (QS). Ten UK universities feature in the top 50 in at least one of the three subjects; medicine, biological sciences and psychology.
With the trend of major UK universities planning to charge the maximum £9000 fees, universities will be under even more pressure to ensure students get value for money with highly esteemed courses. The results from QS show three UK universities to enter the top ten world rankings for medicine; Cambridge, Oxford and Imperial whereas this reduces to just two for both biological sciences and psychology (Cambridge and Oxford).
One of the factors accredited to Harvard's high medicine ranking has been noted by QS for "pioneering work in stem cell research" which was carried out in collaboration with Massachusetts Institute of Technology. However both Oxford and Cambridge were praised for being "traditional UK research hubs" although it was noted that in the field of biological sciences, research citations fell short of their US counterparts.
Data summary
World's top 25 universities for medicine

Rank

Institution

Country

Academic

Employer

Citations

Score

1
Harvard University
United States
100
100
84
93.6
2
University of Cambridge
United Kingdom
81.7
94.1
74.1
79.9
3
Massachusetts Institute of Technology (MIT)
United States
62.6
83.2
100
79.6
4
University of Oxford
United Kingdom
76.5
90
79.2
78.9
5
Stanford University
United States
74.9
66.3
70.4
72.2
6
Yale University
United States
67.1
55.9
70.3
67.3
7
University of California, Los Angeles (UCLA)
United States
63.5
54.5
67.2
64.1
8
Johns Hopkins University
United States
63.7
29.6
65.7
61.1
9
Imperial College London
United Kingdom
56.9
45.6
63.9
58.6
10
University of California, San Diego (UCSD)
United States
50.6
27
71.2
56.5
11
California Institute of Technology (Caltech)
United States
32.4
38.1
90.8
56.3
12
University of Toronto
Canada
55.7
47.9
54
54.2
13
McGill University
Canada
45.9
63
60.4
53.4
14
Duke University
United States
39.7
57.3
68.6
53
15
The University of Melbourne
Australia
53.2
60.4
49.6
52.5
16
Columbia University
United States
42.8
60.8
62.2
52.4
17
University of California, San Francisco
United States
45.2
24.5
67.5
52.1
18
National University of Singapore (NUS)
Singapore
58.3
57.9
42.3
51.9
19
University of Chicago
United States
41.2
46.4
66.5
51.8
20
The University of Tokyo
Japan
62.8
45.7
38.2
51.3
21
University of Pennsylvania
United States
40.1
48.6
63.5
50.3
22
University of Michigan
United States
39.5
44.3
64.8
50.1
23
Cornell University
United States
40.3
47.2
61
49.3
24
University of Washington
United States
41.4
27.8
64.2
49.2
25
UCL (University College London)
United Kingdom
42.7
46.9
57
48.8
World's top 25 universities for biological sciences

Rank

Institution

Country

Academic

Employer

Citations

Score

1
Harvard University
United States
98.6
100
78
90.5
2
Massachusetts Institute of Technology (MIT)
United States
81.1
85.6
83.9
82.7
3
University of Cambridge
United Kingdom
100
88.2
54.3
80.5
4
University of Oxford
United Kingdom
86.6
85.2
51.5
72.4
5
Stanford University
United States
78.5
75.6
62.9
72
6
University of California, Berkeley (UCB)
United States
86.7
63.8
51.9
70.5
7
Yale University
United States
62.1
68
59.8
61.8
8
California Institute of Technology (Caltech)
United States
58.2
38
67.7
60
9
University of California, Los Angeles (UCLA)
United States
60.6
49.5
57.8
58.4
10
University of California, San Diego (UCSD)
United States
61.9
34.4
55.1
56.4
11
Imperial College London
United Kingdom
62.8
57.1
43.9
54.7
12
University of Toronto
Canada
64.7
36.8
45.6
54.3
13
Johns Hopkins University
United States
54.6
37
56.9
53.8
14
Columbia University
United States
46.5
67.8
58.1
53.3
15
The University of Tokyo
Japan
71
46
30.1
52.1
16
Cornell University
United States
52.6
61.4
47.9
51.6
17
University of Pennsylvania
United States
43.4
71.9
56.4
51.5
18=
McGill University
Canada
56.7
53.9
44.1
51.4
18=
Princeton University
United States
48.9
53
54.1
51.4
18=
University of Chicago
United States
47.3
49.9
56.8
51.4
21
Arizona State University
United States
16.5
7.3
100
49
22
ETH Zurich (Swiss Federal Institute of Technology)
Switzerland
53.9
36.6
45.5
48.8
23
University of Michigan
United States
39.1
54.9
56.4
47.6
24
University of British Columbia
Canada
53.6
44.2
40.3
47.3
25=
Duke University
United States
41.3
47.9
54.2
47.1
25=
The University of Melbourne
Australia
53
66.1
35
47.1
World's top 25 universities for psychology

Rank

Institution

Country

Academic

Employer

Citations

Score

1
Harvard University
United States
100
93.8
97
97.5
2
University of Cambridge
United Kingdom
83
100
88
89.1
3
Stanford University
United States
91.2
74.7
86.3
85.3
4
University of Oxford
United Kingdom
77.8
87.5
76.8
80.5
5
University of California, Berkeley (UCB)
United States
86.9
70.1
65.4
77.6
6
University of California, Los Angeles (UCLA)
United States
74.4
59.2
81.6
71.3
7
Yale University
United States
72.2
63.6
78.2
70.8
8
The University of Melbourne
Australia
68
67.9
66.3
67.6
9
Princeton University
United States
58.9
46.5
98.5
63.1
10
McGill University
Canada
61.9
45.3
70
58.5
11
The University of Sydney
Australia
68.4
42.8
56.9
58.4
12
UCL (University College London)
United Kingdom
55
49.4
78.5
58
13
University of Toronto
Canada
68.4
32
66.7
57.1
14
University of Chicago
United States
56.7
38.3
84.5
56.7
15
University of Michigan
United States
63
31.8
74.3
55.9
16
University of British Columbia
Canada
64.4
33.5
67.5
55.8
17
Columbia University
United States
53
42.9
80.4
55.5
18
The University of Tokyo
Japan
66.4
47.1
33.6
54.1
19
Cornell University
United States
52.3
45.2
71.6
54
20
Australian National University
Australia
53.9
42.6
68.3
53.4
21
University of Pennsylvania
United States
46.2
46.3
81.2
53.2
22
National University of Singapore (NUS)
Singapore
64.7
40.3
38.4
52.1
23
New York University (NYU)
United States
54.9
27.5
80.3
51.8
24
Carnegie Mellon University
United States
48.2
27.9
90.9
50.7
25
Peking University
China
57.9
38.1
47.6
49.9